The binding technique you choose makes a difference in how your printed piece looks and works.  As a full-service print finisher, we offer a variety of binding techniques from the classic look of perfect binding to the flexibility of mechanical binding. Not sure what technique is best? Our team can help you find the perfect solution.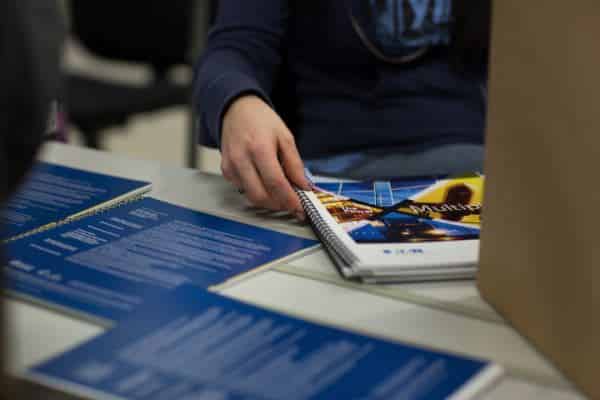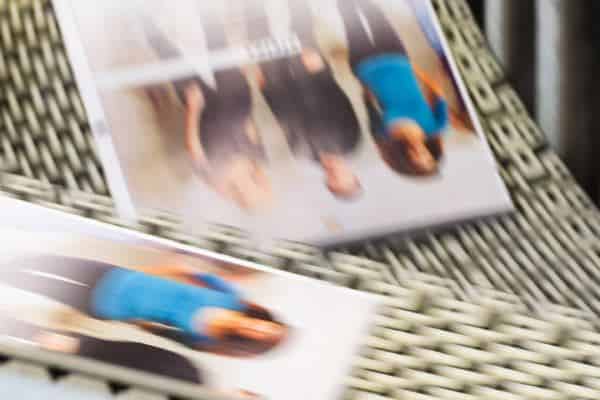 Our most recent investment adds case binding to our line-up.  We combine state of the art PUR perfect binding capability with case covers to create beautiful hard cover books.  We produce short and medium sized runs with great turn times. This capability will also allow us to produce a two piece or wrap turned edge cover for Plastic Coil  and Wire-o -bound books.   These books are beautiful whether you are laminating a paper cover or choosing one of the many specialty materials available in the market for your cover.  Foil stamping and/or embossing these covers adds an especially handsome touch.  We use only top-notch materials and great care to produce these special covers.  Whether you want a few hard cover books along with your larger perfect bound order, a set of textbooks, case covers on your coil bound book or an order of very special books for a special occasion, we have you "covered".
When you want to produce an attractive publication with permanent binding and a finished book appearance, our perfect binding is ideal. With three perfect binding machines we can we have the ability to make ultra-short runs for digital printing and mega runs for offset. Perfect bound pieces are easy to mail and the flat spine is perfect for printing.. We offer PUR adhesive and the ability to gather up to280 signatures in one pass. All lines feature in-line scoring for hinged covers, making perfect binding an ideal choice for magazines, textbooks, manuals, annual reports and other impressive projects  For Digital Print Perfect Binding we have installed state-of-the-art equipment that reduces set up and turn time so that we can help you complete digital print projects of 1 to 500 books timely and economically.  But, economical does not mean average quality.  The books produced are in a word – beautiful.  Our system is designed to produce the highest quality look for your project.  In addition, winged covers are also offered.  Some paper stocks and toners are challenging to adhere to.  So, we only use high performance PUR adhesive in this short-run digital application to ensure that your book will stay together no matter what stock or print engine is used.  PUR adhesive also allows the book to lay flatter.  Bullet proof adhesion, better lay-flat, longer life, just what you are looking for.  Our new technology can make books as thin as 1 millimeter (0.04 inch).  Also, if you have a project with multiple book thicknesses, bring it on!  Our new technology handles this very effectively.
Durable, colorful and easy-to-use, our plastic spiral coil binding is the finest quality coil binding available. Plastic binding can't scratch or snag, and it won't crack, chip or get bent out of shape-even during shipping. Coil diameters range from 1/4 inch to 2+ inches. It also comes in 45 colors, so you can be creative and keep your brand consistent. The open coil design allows publications to lay flat and be opened a full 360 degrees, making this the perfect binding choice for cookbooks, phone directories, service manuals, flip charts, computer documentation and children's books. Add an optional thumb-cut tab and you have the perfect binding for calendars and wall charts.
When registration is critical and when you want to add a rich look to your publication, our double Wire-O binding is a superior, yet affordable, solution.  Available in a variety of metallic wire colors, double Wire-O binding combines durability and contemporary style— perfect for annual reports, promotional pieces and capability brochures. Adding an optional wire-bound hanger also makes double Wire-O binding a durable choice for charts and calendars.
For most of your projects, our saddle stitching is the simplest, most cost-efficient binding technique. We place folded signatures over a "saddle" and staple along the spine. This widely used style of binding is excellent for booklets, brochures, newsletters, pamphlets, direct mailers and catalogs. 
When cost is a criteria for your project, our GBC binding provides an inexpensive alternative for producing professional looking presentations and booklets. The rounded plastic comb is closed on one edge, allowing for an imprintable spine. All other edges of the comb are open, allowing pages to be removed and replaced.
COLLATING WITH SIDE OR CORNER STITCHING:
When you need accurate, fast and reliable collating services, our automated flat-sheet collating machines do the job. Our collator has a sophisticated double-sheet and miss-detection system for unmatched quality. We can handle stocks as thin and smooth as NCR and 15# bond paper up to the bulkiest cover and chipboard and inserting tabs — all in one pass. We can also fold, trim and side or corner stitch in-line, producing booklets of various sizes.
When you need something different — a fanned piece or a metal cover — our specialty binding techniques provide the creative solution that brings your project together. We can provide binding with plastic or metal screw posts, snap rings or grommets.
If sustainability is your priority, we have two new lines of plastic coil binding that meet international standards for environmental responsibility. Envirokoil is a mechanical binding with the highest recycled content on the market, and PETG-Koil is made of PETG compounds as required by some of our international customers.